How can we help you?
How do I use multiple identities?
Multiple identities are a way to configure your account to send from other email addresses that you own. This allows you to manage your various email accounts from within your webmail one.
In your webmail account, select OPTIONS > PERSONAL INFORMATION. Under the 'signature' box, click the EDIT ADVANCED IDENTITIES link.
Here you can add, edit or delete your identities. You can add as many as you want. If you have a nickname set up on your account already, you can set up an identity to send from that nickname.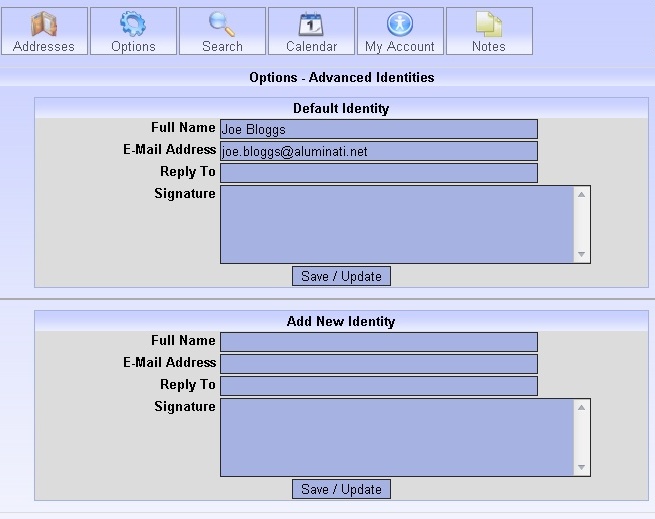 In the FULL NAME box goes your name. This will appear as "Your Name" . SIGNATURE contains wording that you want all your emails to end with, for example, 'Best wishes, Joe Bloggs.' It then puts this at the end of all the emails you compose, so you don't have to type it in every time.
In the E-MAIL ADDRESS field, enter whichever address you like, however, any email address you use for an identity MUST ALREADY EXIST. If you send an email from one that does not exist, any replies to it will either bounce back to the sender or be lost.
When you are finished, just click any one of the SAVE/UPDATE boxes. It will save all of the changes you have made. When you want to send from another identity, just go to compose a message, click on the drop down box labeled FROM, and choose which email address you want to use.
When you reply to an email sent to that address, the system will intelligently ensure that you respond using the correct address. It is that simple!